Why transcribe video to text
Transcribing video into text has several advantages over just having video. Transcribing video can give your content more search engine and social media exposure.
Creating high-quality, relevant captions can be a powerful way to improve SEO rankings and increase engagement. Whether you are uploading your video to YouTube or Facebook, adding text is an effective strategy for getting more views.
The reasons that we want to transcribe video to text are simple:
#1 Reason: Increased Google ranking
Google has officially stated that they use transcripts as a ranking factor. Since Google uses transcripts on your website as part of their search results, it makes sense to make sure the transcripts contain keywords that are relevant to your business online and provide more click-through opportunities for your audience.
#2 Reason: Increase engagement on social media
While Facebook and Instagram are both major visual platforms, they share many similarities in the types of content you can post.
On both sites, you can like another person's post, comment on it, share it or follow someone (if desired) to get updates on their account.
One way to stand out is to share captioned videos on your social media feeds. Captions are a powerful tool to help reach people with hearing impairments, foreigners with limited English proficiency, or people who turn off sound in public places but may want to access it by other means, such as an audio-to-text converter for creating captions.
This will allow anyone to share your captioned videos with friends or followers in a quick and easy way, rather than having to create captions manually from scratch.
#3 Reason: The viewer experience
If you've ever watched a video without captions, you know how frustrating an experience it can be. Videos with captions provide viewers with additional information about what is being said.
This helps them to have a better understanding of your content. Watching videos with subtitles also helps people who are hard of hearing to enjoy the content of the video and provides a more immersive viewing experience.
How to transcribe a video to text using Autosubtitle Online
Autosubtitle Online offers a cost-effective solution for companies looking to transcribe video to text while ensuring that top-notch transcriptions can be created quickly and easily as part of a broader SEO strategy.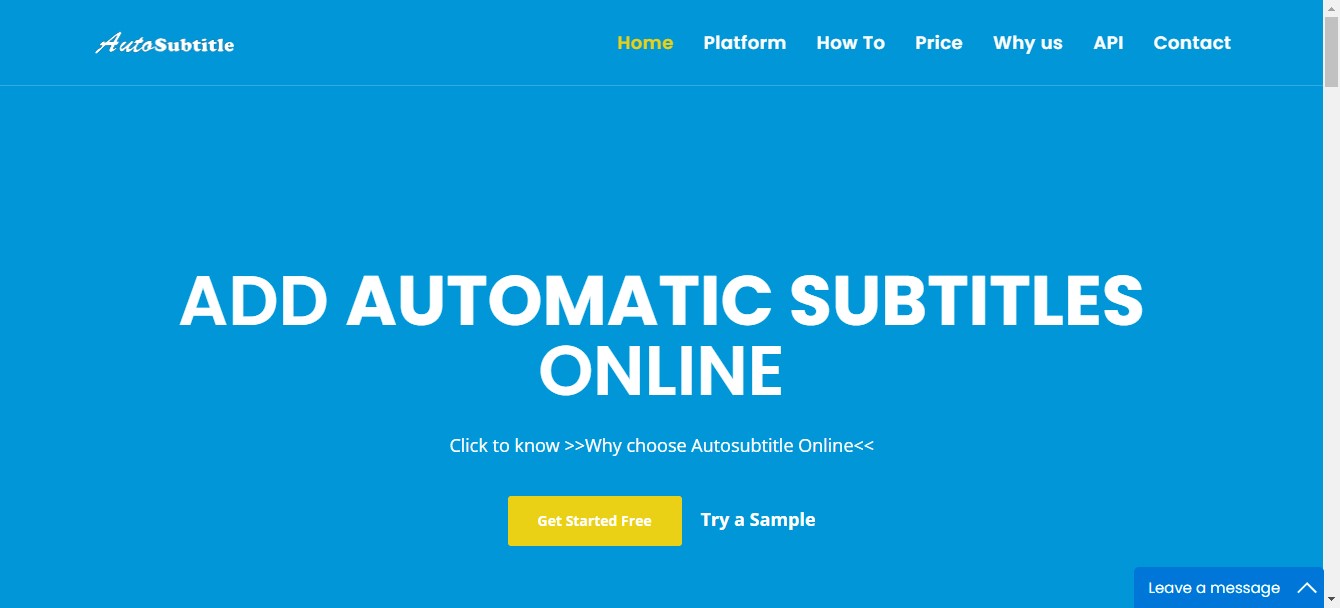 The company uses an automatic speech recognition program that acts as the perfect audio-to-text converter by algorithmically breaking down all aspects of spoken language, including intonation, stress and context.
Using online subtitle generators and subtitle translation tools like Autosubtitle gives you access to subtitles in up to 100 different languages, as well as an editing dashboard that allows you to make changes or correct any potential errors the software may have made.
In addition, you can edit and beautify your subtitles and fonts to make them look more appealing to viewers. To make things even easier for companies, Autosubtitle allows users around the world to translate into multiple languages of their choice with just a few clicks.
Translating your video into text is easy and fast using their subtitle translation tool. All you have to do is upload your video, select the desired language and within minutes you can choose subtitles in French, Spanish or any other language.
How to use Autosubtitle Online?
Read the article below:
How to use Autosubtitle Online to transcribe video to text in seconds.